Family Care
Back & Neck Pain
Motor Vehicle Accidents
Sports Injuries
Ergonomic Injuries
Nutrition
Fitness
Hypertension
What is Chiropractic?
Gallery
Greens First
Connect With Us!


Welcome to Dynamic Body Chiropractic, located 1354 The Alameda #11, San Jose, CA 95126, where the doctors care for your ever-changing life. We are a family chiropractic office dedicated toward helping our patients obtain wellness. Dr. Daniel Kim DC, has been serving San Jose, Santa Clara, Milipitas, Fremont, Cupertino, Los Gatos, Sunnyvale, California for many years.

Dynamic Body Chiropractic offers Chiropractic care, Massage therapy, Nutritional Evaluation, and Fitness. The office is equipped with Digital Radiography, which allows the ability to address certain "acute" injuries/complaints. This is useful for the recent car accident patient to sport injury to a simple slip and fall at the house.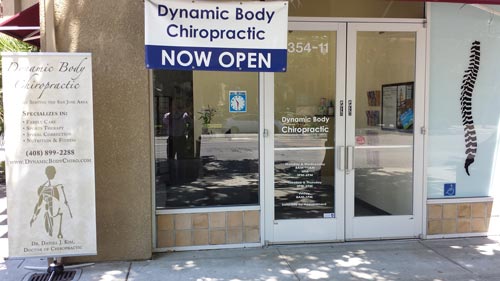 The chiropractors at the office are well experienced in handling:
Neck pain
Headaches
Upper back pain
Shoulder, arm, wrist and hand pain
Rib pains
Low back pain
Sciatica
Leg, ankle and foot pain
Sports injuries
Sports chiropractic

Amateurs
Professionals
Amateur and professional institutions

Numbness disorders
Muscle weakness (atrophy)
Chronic musculo-skeletal disease/disorders

Rheumatoid diseases
Gout arthritis
Adrenal insufficiency

Scoliosis care (correction/management)
Pediatric care
Maternal care (pregnancy)
Geriatric care
Motor vehicle accidents (car accidents)
Personal injury cases
Nutritional evaluation & education
Daily ergonomics education & evaluation